Salford City Mayor, Paul Dennett, determined Salford Red Devils' future as "very worrying" if the long term tenancy agreement at the stadium isn't sorted out. 
In his statement, Mayor Paul Dennett said: "I recognise that the club cannot continue to exist without a tenancy for next season, nor can it continue to exist indefinitely on current terms.
"The issues are clear, and within Salford City Council we are working tirelessly to acquire the stadium from our joint venture partner, Peel, which will then enable us to adopt a new lease not just for the Reds but also for their stadium co-tenant Sale Sharks."
The statement comes after a lack of movement on securing a future long term tenancy at the stadium. The process in securing a permanent tenancy has taken up almost 3-years of discussions with officers from Salford Council.
A statement has been issued by Salford City Mayor Paul Dennett on the content of Salford Red Devils recent public statement. See more at: https://t.co/YDjrj1X5nu pic.twitter.com/Ue33T3tGn1

— Salford City Council (@SalfordCouncil) November 15, 2023
The club has concerns over compliance with RFL rules as its current tenancy arrangement is due to expire on December 1 2023.
The club does not have a secured five-year tenancy in place for the AJ Bell Stadium. Delays could put the clubs super league status at risk which ultimately could result in the destruction of the club
Mayor Paul Dennett claimed the management team at the club are "operating under tremendous pressure and in extremely difficult circumstances."
Paul added: "We recognise the severity of the present situation and understand their desire to communicate to fans.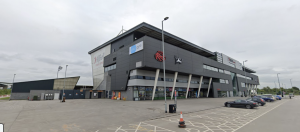 "But we all know the destiny of the Reds is not simply in Salford City Council's gift. As mentioned, we are joint owners of the stadium with Peel, and cannot make decisions without them.
"The stadium is also occupied by Sale Sharks, who have been exemplary tenants providing much needed income to the stadium which has been vital to making the entire business stack up.
"The council is also bound to provide services to the public of Salford which guarantees value for money to Salford taxpayers, and must provide robust checks and balances to ensure that our investments are sound and reasonable.
"Whilst I appreciate that the club does not have indefinite time, it is also the case that the council alone cannot decide the timeframes for the necessary decisions to be taken."
A petition to save the stadium has almost 13,000 signatures as of current, its goal is 15,000.
To access the full statement click here.