A teenage swimmer from Worsley has recently smashed a long standing British swimming record.
This month 14-year-old Amelie Blocksidge, of City of Salford Swimming Club, smashed the record held by Olympian, Sarah Hardcastle, for just over 38 years.
Amelie claimed a new fastest time for the girls' 16 and under short course 1500m free swim, beating the Olympian by almost 10 seconds.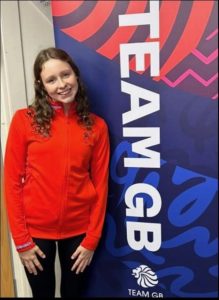 "I was nervous because I hadn't done a short course in about a year, I always want a PB (personal best)," said Amelie.
"I wasn't confident in what time I was going to do so I just had to go in and swim.
"They announced it (the result) when I finished my race with everyone there. It was good – I was really tired though."
Amelie's astounding time of 15:56:79 makes her the fastest British Junior swimmer in that category since Sarah's time of 16:06:68 in 1985. The young swimmer achieved the master stroke during the Swim England Northwest Winter Regionals at the Manchester Aquatics Centre on Sunday November 5.
In addition to her record-breaking win, Amelie further succeeded in an additional four swim categories across the weekend. This means that Amelie ended up taking home five gold medals in total.
However, this isn't Amelie's only achievement as this year, Amelie won a European swimming gold medal by over a minute at the European Junior Open Water Championships in Corfu.

Nicola Blocksidge, Amelie's mother, admitted she is "immensely proud" of Amelie's achievements.
"She's amazing, she trains really hard and she just loves to swim. She loves to compete which at that age is the main thing, it's a bonus that she's getting all these achievements."
Amelie currently trains with The City of Salford Swimming Club around eight times a week in pools across Salford. Nicola admitted that Amelie has continued to improve at the club within the past 18 months.
"She's gone from starting to win county medals/ regional medals and then she went on to win the British Championships earlier this year, senior medals and then international medals," Nicola added.
Amelie's is expected to compete in Edinburgh for her next big swim with the British youth squad this December. From there, the youth squad are going to Canada to compete in the Ontario international meet.
Co-authored by Scarlett Mullender