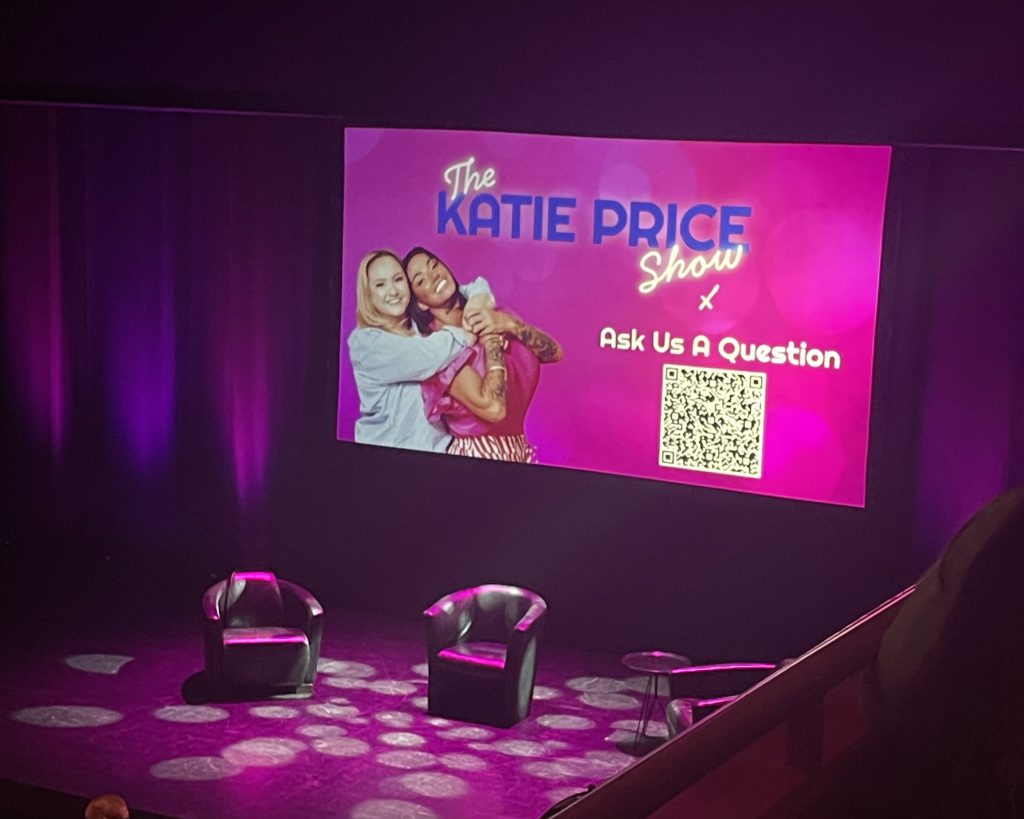 Based on their successful new podcast, The Katie Price Show, sisters Katie and Sophie Price took to the stage of the Lowry theatre to host a one-night-only show.
Discussing all things from family and mental health to exes and tabloid press, it was the pair's first ever live show.
With the help of producer Christina, the three entertained the crowd all evening with Q&As, games and songs.
Arriving at the Lowry over half an hour before the sisters were due on stage, the theatre was already full with eager fans enjoying drinks and singing to the pre-show playlist.
The theatre glowed pink from the light of an on-stage screen encouraging the audience to submit questions for the women to answer during their show.
Before the show began, a pre-recorded video played of the pair recording their podcast together, introducing the show, discussing what they might wear, and sharing just how nervous they were:
"Go and have your wees, finish your drinks," Katie said, encouraging the audience to promptly take their seats before the show.
The two were the perfect chalk-and-cheese duo, with Katie arriving on stage in a neon pink unitard with matching sparkly heels and a hat, while Sophie wore a blazer and jeans.
"I knew she was going to wear jeans!" Katie laughed, while a member of the audience shouted praise at them both for being their authentic selves, while so different.
Surprise videos played on the screen behind them from their families wishing them luck and sharing encouraging messages, which seemed to calm Katie's nerves slightly.
For the first half the girls discussed weddings, family and shared anecdotes from their train journey up to Salford that day.
The topic of journalists came up, as Katie shared she had often been the target of many ruthless and deceiving headlines from the press:
"Is there any journalists in here tonight?" she asks, "I know you're in here, put your hands up!"
I sat, awkwardly, with my notebook and pen clearly on my lap, hoping nobody would notice.
"Just think about how it makes me feel and think about how it makes my family feel," she advised.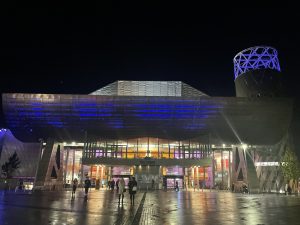 After accidentally mentioning she'd prepared a surprise song, but was having second thoughts because of her nerves. The crowd chanted in encouragement, and before the interval she sang a rendition of We Don't Have To Take Our Clothes by Jermaine Stewart.
After a 15-minute interval Katie returned with an outfit change.
The two answered some more audience questions, and then brought up three Katie Price superfans in the audience to compete against each other in a quiz.
Katie wrapped the evening up with another performance of her song I Got U as the audience gave her a standing ovation.
With 45 books, an album, a modelling career, and more than a few documentaries under her belt, I had no doubts Katie wouldn't be stuck for things to talk about. Both she and her sister kept the crowd entertained right up until the end of the two-hour show.
Just as she promised, she was completely candid in her answers, even when her sister and producer Christina advised otherwise!
I left the theatre a huge fan of Katie and her sister, and eager to delve even more into the incredibly full and diverse career of Katie Price.
So far, this is the only live show planned for the sisters, however they both were very eager to continue after the sell out success of this first showing. If you're a fan of British pop culture, this is for you – a very entertaining show from the ever-relevant Katie Price.