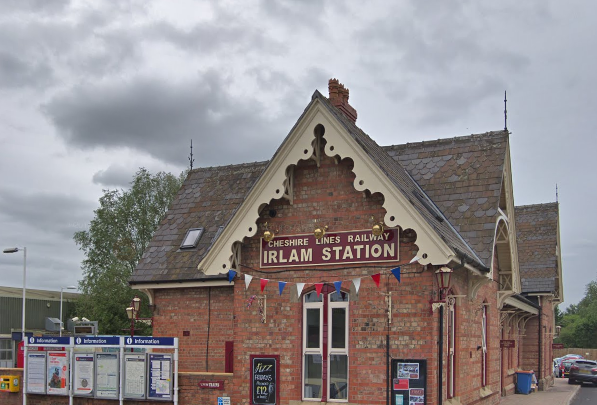 The Station café that will make you want to stay! With a vibrant bar and beautiful décor, The Station in Irlam is a must see venue for everyone from train enthusiasts to aesthetic lovers.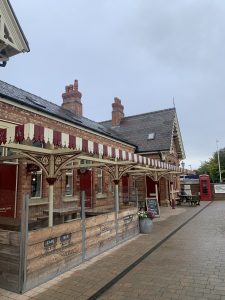 On a cold and rainy Monday morning, myself and Holly Roberts were dreaming of a full English breakfast and a hot coffee, so we took to the internet to find the best breakfast in Salford.
We headed over to Irlam after reading great reviews on The Station café and bistro. A 20 minute drive later and we had arrived at Irlam railway station, an active and popular train station with trains heading in towards Manchester and over to Cleethorpes in North East Lincolnshire.
As soon as we went inside we were hit with the instant atmosphere of a friendly, cosy and modern place. We got shown to our table which was in an carriage-like booth with décor including luggage racks above our heads and lanterns, with Roberts expressing how "it feels like (he's) on The Hogwarts Express train."
Our waitress told us about today's specials which included a two course meal for only £10. Soup of day, Cauliflower cheese, and roast of the day or fish goujons with chips. We chose the 'The Station full English Breakfast' which is served from 9am to 12pm, this included tea or coffee for the cheap and cheerful price of £9.95.
The breakfast was warm and filling and the tomatoes which were served like puree was my favourite part; with the sweet taste it added that extra flavour!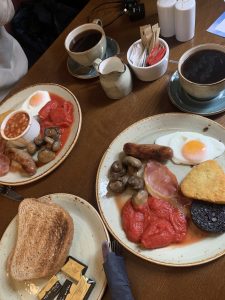 Although it was relatively quiet at the time we arrived, the staff told us how it can get incredibly busy with afternoon tea's and Sunday roasts. Shift manager, Roman Gordan, told us about the typical customers they receive:
"It's a range of different people who come in, so we get like the younger ones who are going into Manchester on a Friday and Saturday who pop in for a drink, but then in the week we have the older generation who come in for their cakes and coffees."
The Station also host events such as Beer fest, Christmas markets with artisan hand made goods, Santa arrives on the train and you can even get married at this beautiful venue. With various open and close times throughout the week ranging from 9am till 10pm.
There any many railway stations in the UK that have also been restored into places to eat, drink or even climb abroad the trains. Check out this map for others…