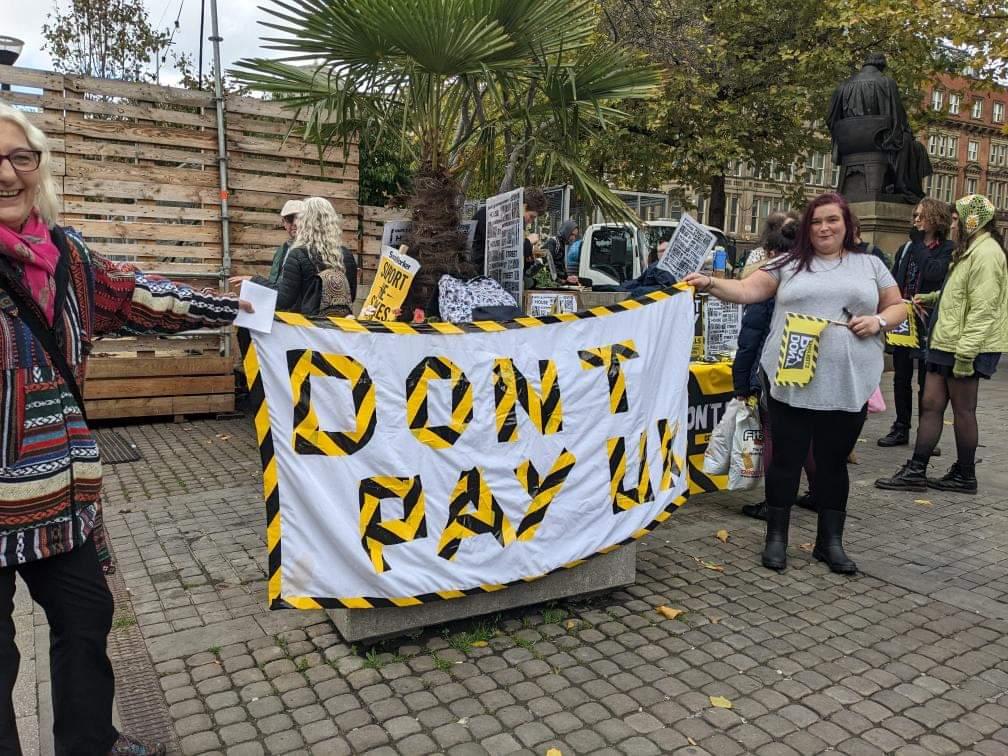 With the cost-of-living crisis unfolding, more Salford residents are standing in solidarity and pledging to not pay their energy bills.
Don't Pay UK (DPUK) came at the right time for Salford resident, Ciara. Currently on universal credit and concerned about the rising cost of living, she was introduced to DPUK through her local postcode group online.
Described online as "a grassroots movement demanding a fair price for energy for everyone", DPUK is a national organisation that encourages solidarity by those affected by price rises, including food and energy bills.
To encourage more people to get involved, the Salford DPUK branch is holding a meeting on 30th October to give potential Salford supporters the opportunity to voice any concerns about joining the organisation.
The DPUK has been focused on creating resources, beginning mutual aid, and building up 'community resistance'. This resistance includes training targeted as resisting bailiffs and with training people to "resist" pre-payment metres.
Ciara said: "The more people that do it, the harder it will be for them [energy companies] to pursue this action.
She also added that "it's rarer than you think" for energy companies to switch off individual's power. She followed: "This is why we are holding this meeting on the 30th to give people a chance to answer those questions because it totally understandable that people will be scared to do it.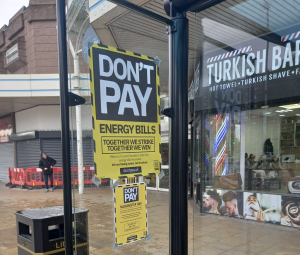 The overarching goal of DPUK is to help people support themselves eventually on their own. Ciara said: "We don't want to drop people once they agree to go on strike, we want to stay there for the consequences, the worries you may have."
Ciara refers to the pledge as a 'strike' meaning DPUK's pledge gains rights. She argues that an energy bill strike has the potential to reach across all of society and that the reliance on foodbanks in the 21st century is an "icky" feeling.
Ciara explained that DPUK is encouraging people "to put money aside" while they refuse to pay bills as the members understand that some people may have additional vulnerabilities and responsibilities regarding this type of radical action.
Whilst she is in a fortunate position, Ciara understands how others will be worried about joining the organisation. She said: "I've got that sort of millennial mindset that I'm never going to own a house, perhaps not the healthiest mindset to have, but it [credits scores] is not really something I'm personally that worried about."
One member of the group is a Doctor who worries about their patients struggling due to the rising cost of living. Ciara believes that it is "essential" for people in higher brackets who earn more to join, as "solidarity" across incomes is integral to the pledge, to the cause, and to social cohesion.
She also mentioned that the introduction of stricter price-caps by the government could help curb the effects of the energy crisis. She said: "They [the government] have the power to do something, but I'm not holding my breath.
"We need to recognise how much power we have with everyday things. If we all say no and don't pay – unless you make it affordable – then we can recognise the power we have, and really make a difference
"We don't have to wait for a politician who is going to fix everything, we can tackle it on our own."
We can't just stand by. It's time for us to #TakeBackPower.

⚡ We strike, 1 Dec.

Join today 👉 https://t.co/O0r8IBmctR pic.twitter.com/YS8D0ZSEwc

— Don't Pay. (@dontpayuk) October 26, 2022
A spokesperson for Salford City Council said: "To help with the cost of living they are also now offering free family activities and hot drinks from 5pm to 8pm Monday to Thursday.
"Monday is movie night, Tuesday and Thursday family games and Wednesday arts and crafts. There's no need to book but children must be accompanied by adults."
A spokesperson for EDF Energy followed: "EDF doesn't support participation in the campaign as it could lead to long term detriment to people who do so.
"We would instead strongly encourage customers who are concerned about debt to get in touch with us as early as possible. We have a comprehensive support package which ensures we are able to provide sustainable solutions tailored to individual needs."
EDF Energy also explained that they are supporting customers by "Doubling our customer support fund this year to £10m to provide direct financial assistance" and providing "£20 million of funding brought forward to insulate homes across the UK."
Don't Pay UK Manchester's Q&A will be on the 30th of October at 14:00-16:00 at the Partisan Collective in Salford.
For more information about Don't Pay UK visit their website.