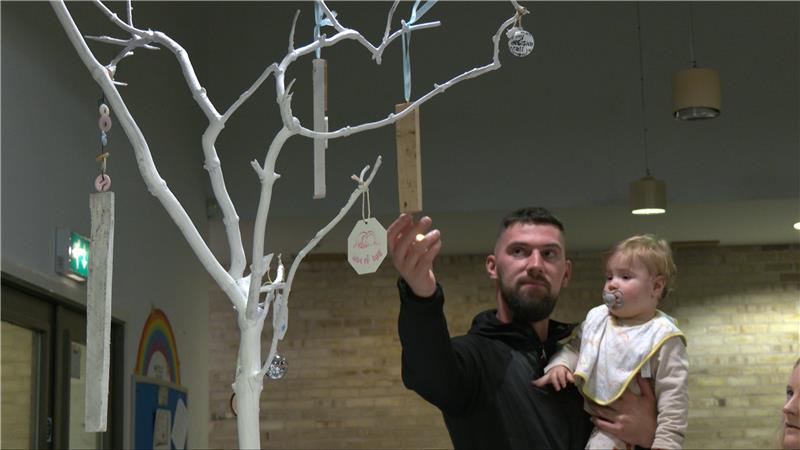 A Salford dad who lost his unborn baby during lockdown is calling for equal support for both parents grieving the death of a child. 
Nathan Holleran, who lost his daughter, Ruby-Rose, two years ago during the Covid pandemic, says he was left 'waiting outside' at crucial appointments despite needing to be informed and supported.   
The dad-of-two attended a vigil this week held by Visit From The Stork CIC to mark Baby Loss Awareness week and to encourage others to speak out and get the help they need.  
"We lost our first baby two years ago," he said. "When it happened it was through lockdown and it was more the mother that got the support. As it was 'one in' due to Covid, the father had to wait outside. 
"I still think the support should be for both sides. 
"We're just trying to do everything we can to help others going through the same thing that we went through. We do charity runs, attend things, just try to do everything we can to get it out there. 
"Not everyone speaks about it, even as a lad I bottle everything up sometimes. I've always been that person to keep it to myself but since my son's been here, you do what you have to do. It was tough but you've got to get through it someday." 
Visit From The Stork CIC, which was set up to help young families in Salford, held its first event at The Emmanuel Church in Langworthy last week to support those affected by baby loss.  
CEO, Kimberly Bond, started the charity as a place for people to turn to when they find out that they're expecting and need extra support. 
She said: "I wanted to get the community here and really show our support for Babyloss Awareness Week. 
"The more you talk about it, the more you hear so many women have got personal experience of it. To hear stories, you think it's not talked about at all and it really should be so we're creating a safe space to come and do that." 
Kerry, from Salford, attended the event after struggling with her own loss. Working on a gynaecology ward she often comes across women in a similar situation to her.  
"When you're going through the miscarriage no one can be that person with you," she said. "I've supported a lot of women through miscarriage and you get your clinical head on, you can only be there for so far.  
"People don't really understand what is happening themselves so they can't really explain what it is, they just know that there is this horrible thing happening to them physically and emotionally and it scars you mentally as well. 
"Because it's so common people just brush it over and it gets to 10 years later, you're asked about it and you get upset." 
Visit From the Stork CIC is able to signpost families to Stillborn and Neonatal Death (Sands) charity and also has links to the Miscarriage Association.  
Anyone needing support is invited to visit the centre at The Emmanuel Church on Langworthy Road.
Alternatively contact the group via its website.